Our Financial Future
The DU Endowment is built on the generosity of donors and alumni. The funds are used for new facilities, programming, professorships, student aid and more. Over the years, the endowment has changed lives both on and off campus, supporting students and alumni with immersive educational experiences, career development services and other opportunities.
Read on and discover how the endowment empowers students, professors and the University to create meaningful change throughout our communities — all made possible by gifts from the global DU community.
Contact us to learn more about giving options.
Contact Us
2019 DU Endowment Distribution
2019 DU Endowment Investment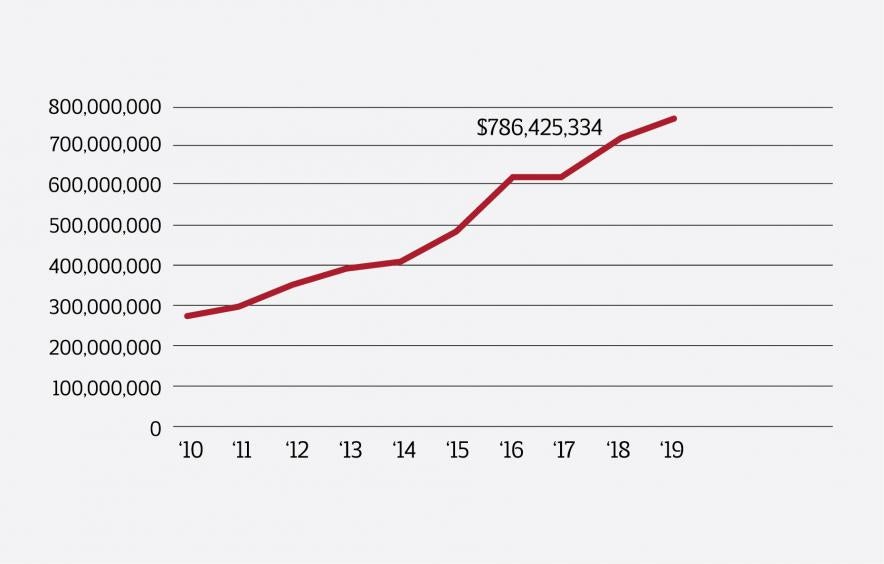 DU Endowment Market Value
About the Endowment
Dear Friends,
As a member of the Board of Trustees and Chair of the Investment Committee, I am pleased to share information about the University's endowment in the 2018-19 fiscal year. Our assets continue to be managed by Investure, LLC, a recognized leader in the endowment and foundation investment management industry. They are a full-service, outsourced investment firm whose focus is on meeting the needs of non-profits and a select group of prestigious colleges and foundations. The University of Denver portfolio is a global, multi-asset class portfolio that is heavily weighted to equities. It is constructed to (1) take advantage of the endowment's perpetual time horizon with a focus on long-term (10+ years) outperformance over passive indices, and (2) protect against large downturns in the global equity markets. During the fiscal year ending June 30, 2019, the University's overall endowment experienced a 4.75% return. While we are pleased with the fiscal year return in a challenging market environment, Investure is constructing our portfolio to responsibly achieve our desired long-term asset allocation targets that should ultimately drive sustained outperformance. Thank you again for your support and investment in the University of Denver.
Sincerely,
K. C. Gallagher, MBA '03
Chair, Investment Committee
Board of Trustees
As the University of Denver continues to deepen its commitment to building a global culture of engagement and philanthropy, 5% of philanthropic gifts received on or after January 1, 2018, will be allocated to support fundraising and engagement efforts. Additionally, the University will commit a portion of annual reserve funding to support campaign operations. The combined funding from these two sources will constitute the Campaign Investment Fund. These assessments will significantly extend the reach and impact of gifts to the University and help to advance the mission of the University of Denver.
Endowment Spending Policy
The University of Denver's endowment spending rate policy is currently 4.5 percent of an individual endowment fund's market value. The majority of these funds include true endowments, made up of gifts restricted by donors to provide long-term funding for designated purposes. The remaining funds represent funds that the University chose to invest and treat as endowment (known as quasi-endowment). Donors frequently specify a particular purpose for gifts, creating endowments to fund scholarships and fellowships, professorships and other University programs. Although distinct in purpose or restriction, endowed funds are commingled in an investment pool, but tracked on an individual account basis.
The University reinvests previously allocated spending distributions that have accumulated in amounts greater than two times the estimated annual distributions. This enhances our ability to ensure the duration and preservation of our endowed funds, and to honor the intent of our donors.
Investment Policy
The University of Denver's investment philosophy is to maximize return on assets by exercising an appropriate level of risk; benefiting current and future generations of students and honoring a donor's intent for the gift and growth of their investment. The University manages stock market volatility by maintaining a diversified portfolio, including equities, fixed income, real estate and other investments. However, diversification alone will not prevent the endowment from sustaining losses during market downturns. The University of Denver's endowment distribution policy insulates its budget from short-term fluctuations in the financial markets by using a conservative spending rate formula. These funds are pooled for investment to minimize costs and maximize returns. A separate account is maintained for each endowed fund to track growth, expenditures and additional contributions — thereby preserving the identity and purpose of each fund. The investment pool is overseen by the University's Investment Committee, which employed the services of Investure, LLC, a leading investment firm, to actively manage the University's Endowment Investments. Earnings in excess of the amount expended from each fund are retained in the fund to provide the basis for continued growth.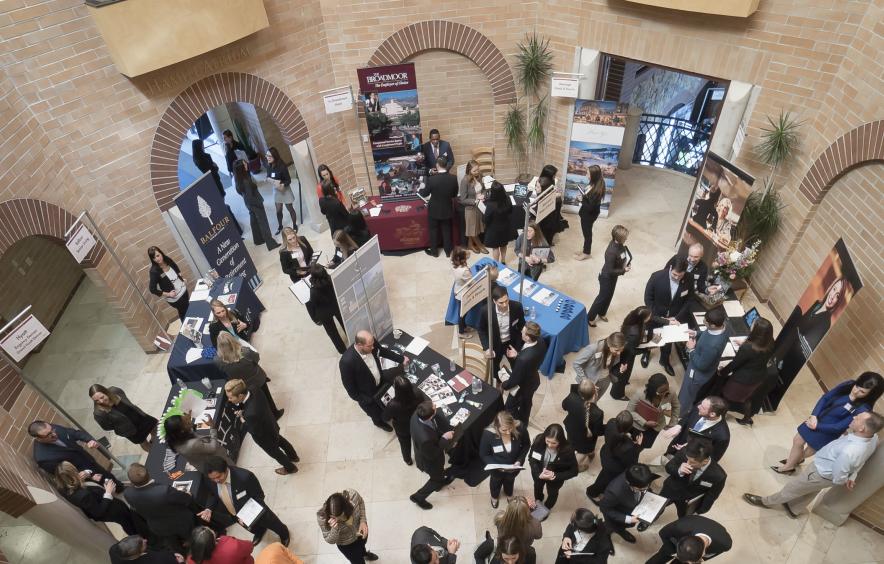 Empowering Refugees with Promising Careers
Generous endowed gifts recently helped create a hospitality training program geared toward providing opportunities for refugees and immigrants. The initiative helps newly arrived individuals integrate into the Denver community while providing hands-on management experience for DU students.